About Si Kahn
ORGANIZING/POLITICAL HISTORY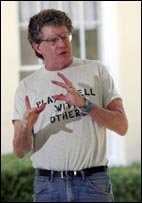 Si Kahn has worked for over 45 years as a civil rights, labor and community organizer and musician. He began his organizing career in 1965 in Arkansas with the Student Nonviolent Coordinating Committee, more popularly known as SNCC, the student wing of the Southern Civil Rights Movement. During the War on Poverty, he served first as a VISTA Volunteer and later as Deputy Director of an eight-county community action agency in rural Georgia, where he also coached the first racially integrated Little League team in that part of the state.
During the 1970s, he worked with the United Mine Workers of America (UMWA) during the Brookside Strike in Harlan County, Kentucky, and was an Area Director of the J.P. Stevens Campaign for the Amalgamated Clothing and Textile Workers Union (ACTWU). These historic labor struggles are portrayed in the movies Harlan County U.S.A. and Norma Rae.
Si founded Grassroots Leadership, a Southern-based national organization, in 1980, and served as its Executive Director for 30 years, becoming Executive Director Emeritus on May Day 2010. For the past 12 years, Grassroots Leadership has worked to oppose privatization and to defend the public sector. This work currently includes a campaign to abolish all for-profit private prisons, jails and detention centers, including immigrant detention centers, as a step towards helping create a prison and criminal justice system that is at least to some extent just and humane.
In August 2009, shortly before Si's retirement, Grassroots Leadership won a major national victory in its Campaign to End Immigrant Family Detention, when the Federal government removed 150 children from the notorious for-profit private T. Don Hutto "family residential center" in Taylor, Texas, where children as young as infants were imprisoned together with their parents. The New York Times wrote, "The decision to stop sending families there - and to set aside plans for three new family detention centers - is the Obama administration's clearest departure from its predecessor's immigration enforcement policies." Si is currently a Distinguished Senior Fellow at Demos: A National Center for Ideas and Action, and serves as Executive Director Emeritus of Grassroots Leadership.
PUBLICATIONS
Si's latest book is Creative Community Organizing: A Guide for Rabble-Rousers, Activists and Quiet Lovers of Justice (Berrett-Koehler, 2010). The book features forewords by Angela Davis and Jim Hightower. Democracy Now! host Amy Goodman wrote about the book:
Democracy is not a gift bestowed by the powerful on the rest of us. If we want democracy now, we have to be willing to fight for it - and we need to know how. Si Kahn's passionate new book, based on a lifetime of organizing for justice, offers hope for all of us who will not compromise the dream of democracy.
Si's most recent book prior to Creative Community Organizing is The Fox in the Henhouse: How Privatization Threatens Democracy (Berrett-Koehler, 2006), co-authored with public/feminist philosopher Elizabeth Minnich, his long time partner and spouse. Katrina vanden Heuvel, Editor of The Nation, wrote of this book:
Inspiring to read, this book will be of great value to organizers, activists and citizens of conscience . . . Nothing less than our democracy is at stake when extremists want to roll back our hard-earned rights. It offers a spirited blueprint for all citizens who care about renewing America's best and most generous traditions.
Si is the author of two widely used organizing handbooks, How People Get Power and Organizing: A Guide for Grassroots Leaders, which together have sold over 80,000 copies. Both were published by McGraw-Hill, and later reissued by the National Association of Social Workers Press (NASW Press). As a result of his 1974 study The Forest Service and Appalachia, published by the John Hay Whitney Foundation, he was invited to testify before the U.S. Senate in hearings that resulted in substantially increased federal payments in lieu of taxes to hundreds of poor mountain counties from Alabama to New York.
He is the author of Si Kahn Songbook (Hal Leonard, Publishing, 1989), as well as of articles in such magazines and journals as The Nation, Liberal Education, Alternet, New York University Law Journal, The Journal of Community Practice, Social Policy, Southern Exposure, New South, South Today, Southern Patriot, Mountain Life and Work, People's Appalachia, Old Time Music Magazine and Horizons, the magazine for Presbyterian women. He wrote the section on community organizing for the 19th edition of the Encyclopedia of Social Work, published by the National Association of Social Workers Press.
MEDIA
Si is a frequent guest on community and public radio stations throughout North America, and has appeared on Mountain Stage, E-Town, Prairie Home Companion and the late Studs Terkel's nationally syndicated interview show. He is recently completed an international radio promotion tour for his new book Creative Community Organizing and his new CD Courage, for which he did over 100 individual interviews, many of them syndicated to nationally and internationally.
Reviews of Si's CDs, books and musicals, as well as personal profiles, have appeared in the New York Times, USA Today, The Progressive, The Nation, the Washington Post, the Village Voice, the Chicago Tribune, the Charlotte Observer, the Chronicle of Philanthropy, and the music publications Rolling Stone, Variety, Performing Songwriter, Sing Out!, Old Time Music Herald, Penguin Eggs, Bluegrass Unlimited and Bluegrass News.
MUSIC
Si's 16th CD Courage was named the #1 CD for 2010 by the Folk Alliance, based on statistics compiled by the Folk DJ Chart for airplay by DJs around the world. Si also had the #1, #3 and #10 songs on the Folk DJ Chart for the year ("Peace Will Rise," "Otis Is Flying," "Playing the Old Songs"), and was recognized as the #1 folk artist, garnering more airplay on folk radio than Bob Dylan or Pete Seeger.
Released on May Day 2010 by Strictly Country Records in the Netherlands, Courage features production and instrumentation by legendary Swiss banjo player Jens Kruger, with liner notes and harmony singing by Grammy-winning country artist Kathy Mattea.
Si's previous CD, Thanksgiving, his third for Strictly Country Records, won #1 CD, #1 artist and #1 song on the Folk DJ Chart in November 2007.
His songs of family, community, work and freedom have been recorded by more than 100 artists and translated into half a dozen languages, including French, Welsh, Hebrew, Swedish, Drents (a Dutch dialect) and Plattdeutsch ("Low German"). Such songs as Aragon Mill (aka Belfast Mill, Oregon Mill, Douglas Mill, Weave and Spin), Gone Gonna Rise Again, Go To Work On Monday, and Rubber Blubber Whale have become a part of the oral tradition, and are sung in folk clubs and living rooms, at rallies and on picket lines around the world.
Si has performed at concerts and festivals in Portugal, the Netherlands, Belgium, Germany, Ireland, Scotland, Wales, England, Northern Ireland, Canada and the U.S. His musical body of work includes 15 albums of original songs for adults and children, plus a collection of traditional labor, civil rights and women's songs recorded with Pete Seeger and Jane Sapp.
One of Si's favorite musical experiences was being asked by publisher Harper-Collins to set to music and record the classic children's books Runaway Bunny and Goodnight Moon. He has composed original music and lyrics for half a dozen films and videos, including the labor videos The Turning Point, We're Not Leaving, Shout Youngstown and One Voice, and the PBS documentary, Hazardous Wastes: The Search for a Solution.
Si is a member of the organizing committee for Local 1000 of the American Federation of Musicians (AFM), AFL-CIO; a past trustee of the Labor Heritage Foundation; a lifetime member of the International Bluegrass Music Association (IBMA); a lifetime member of the Folk Alliance; and the official poet laureate of the North Carolina labor movement by unanimous vote of the convention in 1986. He is represented worldwide by Real People's Music in Chicago, and in Europe by ADASTRA Arts and Leisure in Yorkshire, England.
MUSICAL THEATRE
Si has worked for over 30 years as a composer, lyricist and book writer for musical theater, with past and planned productions and readings at the Goodspeed Opera House's Norma Terris Theatre; the Berkeley, Milwaukee and Tennessee Repertory Theatres; the York and Amas Musical Theatre Companies in Manhattan; The Nora Theatre in Cambridge, Massachusetts; and the Heritage Music Theatre in Petaluma, California.
Si's latest musical Silver Spoon, a romantic musical comedy in which Upper East Side investment bankers fall in love with Brooklyn-dwelling Jewish garment worker trade unionist communists, opened for a five-week World Premiere production at The Nora Theatre in Central Square, Cambridge on May 19th, 2011.
Immigrant, Si's latest musical-in-progress, which stars six-time Grammy nominee and AFM Local 1000 President John McCutcheon as labor agitator, songwriter and martyr Joe Hill, will have its first workshop productions at Heritage Music Theatre in Petaluma California on October 8 and 9th. Immigrant had its world premiere reading on April 22, 2009 at Judson Memorial Church in Washington Square, produced by Amas Musical Theatre as their contribution to New York's Immigrant Heritage Week.
Si has recently been commissioned by the Bread and Roses Heritage Committee in Lawrence, Massachusetts to write a musical in honor of the 100th anniversary of that historic "strike of the immigrants," which will take place in 2012.
Some Sweet Day, a 22-cast member multi-racial musical based on the history of the Southern Tenant Farmers Union, opens for a major revival in 2012, also at Heritage Musical Theatre.
RECOGNITION AND AWARDS
On February 16th, 2011, at its opening plenary session, the Folk Alliance (the international association representing the folk music community) presented Si with a plaque honoring him for having had the #1 CD (Courage) and the #1 song ("Peace Will Rise") for 2010, as well as for being the #1 folk artist for the year, based on statistics compiled by the Folk DJ Chart for airplay by DJs around the world.
On December 8th, 2010, Jews for Racial and Economic Justice in New York honored Si with their Rabbi Marshall T. Meyer Risk Taker Award. As a congregational rabbi in Buenos Aires during the years of the Argentine military regime of 1976-1982, Rabbi Meyer became a strong critic of the military government and its violations of human rights. He worked to save the lives of hundreds of people that were being persecuted by the regime and he visited prisoners in jails, among them the renowned journalist, Jacobo Timerman, who dedicated his book, Prisoner Without A Name, Cell Without A Number, to the rabbi, who "brought solace to Jewish, Christian and atheist prisoners."
On October 14th, 2010, Si received the honor of delivering the keynote address at the Southeast Regional Folk Alliance Conference (SERFA) at the Ozark Folk Center in Mountain View, Arkansas.
On June 10th, the national organization 21st Century Democrats honored Si with their Solidarity Forever award. Previous honorees have included the late Senator Paul Wellstone, Speaker Nancy Pelosi, Congressman John Lewis, Senator Al Franken, Senator Kirsten Gillibrand, Governor Howard Dean, and filmmaker Michael Moore.
Si has previously been a Fellow of the John Hay Whitney Foundation and of the Ford Foundation's Leadership Development Program. A public television broadcast of his musical Some Sweet Day won the Award for Cable Excellence (ACE) in 1982. The video We're Not Leaving, produced by the United Steel Workers of America (USWA), for which he wrote and recorded the title song and soundtrack, won the Silver Screen Award at the U.S. Industrial Film Festival in 1985. Six children's CDs by John McCutcheon, for which Si co-wrote the majority of the songs with John, have been Grammy finalists.
PHILANTHROPY
A long time volunteer in the field of philanthropy, Si was the founding chair and is a continuing board member of the Jewish Funds for Justice, a national Jewish foundation that supports local community organizing projects dealing with the root causes of poverty. He was also the founding chair of Changemakers, a national foundation dedicated to deepening, diversifying and democratizing community-based philanthropy.
EDUCATION
Si Kahn received his A.B. degree magna cum laude from Harvard College in 1965. He left school twice during his Harvard career: once to write and translate poetry in Spain, a second time to work with SNCC during the Southern Civil Rights Movement. His senior thesis on the 12th century Provencal troubadour (that is, folksinger) William IX of Aquitaine won the Susan Anthony Potter Prize in Comparative Literature.
Thirty years later, in 1995, he received his Ph.D. in American Studies with a specialization in Cultural Studies from The Graduate College for Interdisciplinary Arts and Sciences of The Union Institute. His doctoral project, Habits of Resistance: Cultural Work and Community Organizing, is published by University Microfilms. He also holds an honorary doctorate from the University of New England.
FAMILY
Elizabeth Minnich and Si Kahn have three adult children, Simon, Jesse and Gabe, and one grandchild, Anson. Gabe carries on the family musical tradition as a creator of hip-hop beats.